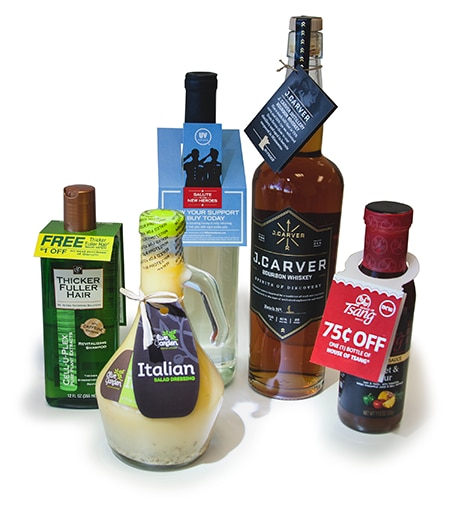 Are you feeling lost on the shelf and unsure about how to capture more consumer attention? Did you know 81% of shoppers want the convenience of coupons directly on a package? Look no further than Hang Tags for a promotion that POPS and influences consumers. Check it out!
Smyth's hang tag manufacturing is 100% in-house, making it unlike any other in the market. With an internal graphic design team and our own stringing/grommet equipment, Smyth executes every aspect of your project saving you the cost and hassle of outsourcing. Our specialists can help you choose between a multitude of tag and string materials, loops or grommets, booklets, etc. Any way you want it, you can hang your hat on Smyth to deliver. Differentiate your package with hang tags - it sells!

personalization
variable data
Long and short run
custom die-cuts
4 to 6 panel booklets
strings or grommets
backside printing
collars
scented
add visibility
differentiate
promote on package
extend content
introduce new product
technical support
design support
in-house prepress
in-house stringing
Need a quote? Contact one of our representatives: Get a Quote.