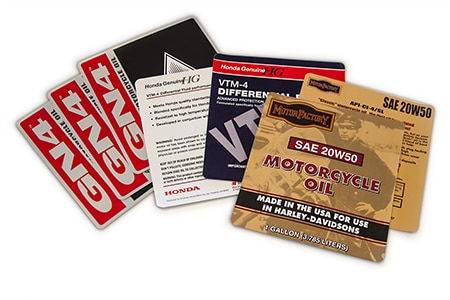 Just as the products in the automotive market are designed to protect vehicles, the labels and packaging for this market are made to resist corrosive products and harsh environments. Smyth has multiple label and packaging solutions for your automotive products.
Film stocks offer a high degree of product and moisture resistance, as well as a 'no label look' when using clear films. UV coatings further protect both paper and film PS labels, and ensure packaging will look great even after sitting on a garage shelf for extended time.
A beautiful paint job can bring out the best in the lines and curves of a high-performance car. So too can a full-body shrink sleeve provide 360° coverage for your automotive product package, totally conforming to its shape. Choose a wide variety of coatings and finishing methods to give your package just the right look and feel that wows from every angle.
IML permanently bonds the label to the container like no other process, since labels are applied during the molding process. Labels are placed into the plastic container mold and fused to the container as it is produced. This yields a label which is both great looking and highly product resistant, making IML an ideal solution for automotive packaging. Smyth has IML solutions for both blow-molded and injection-molded packaging.