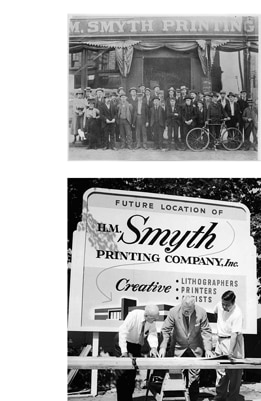 Vision
To be a provider of world-class products and services to our customers, enabling them to differentiate their products at retail and appeal to consumers through innovative label design and package promotion.
Our History
Henry Martin Smyth founded Smyth Printing in 1877 in the frontier town of St. Paul Minnesota. Originally established to help local businesses with their commercial printing needs, the company eventually turned its focus to the production of labels for consumer product goods packaging. In the beginning, Smyth supplied labels to Minnesota firms like Hormel Foods Corp., a customer to this day, and the Minnesota Valley Canning Company, a forerunner of today's Green Giant brand.
Our People
We've grown a lot since our humble beginnings, and that growth is due to the efforts of our people. A long established culture of empowered employees has enabled Smyth to remain a leader in our industry, with a reputation as an innovator. Smyth engages every person in the organization in the attainment of strategic goals; the primary one being earning our customers' business every day. Our dedicated people have a stake in the success of the company and want to provide nothing less than world-class quality and service.
Operations
Smyth maintains two distinct types of production facilities - Roll-fed and Sheet-fed. Roll-fed operations in Minneapolis, Minnesota; Wilmington, Massachusetts; Green Bay, Wisconsin; and Phoenix, Arizona produce pressure sensitive labels and flexible packaging using flexographic, UV flexographic, and digital print equipment. The sheet-fed operations in Bedford Virginia and Austin Minnesota utilize lithographic presses to produce glue-applied cut & stack labels as well as labels for in-mold application. Additionally, we have a tube labeling facility located in Egg Harbor, New Jersey and label automation sales, service, and support in St. Paul, Minnesota.